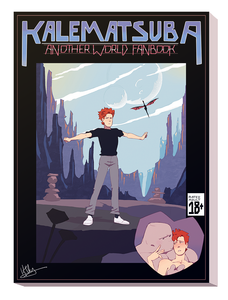 (LAST CHANCE! final stock!)
Finally, after being a dedicated fan of Eric Chahi's 1991 retro game masterpiece Another World,  creating hundreds of pieces of fanart and discussing the game at incredible length on his blog for nearly 4 years, kalematsuba (Kale, that's me!) releases his very first EVER fan/art zine!!

This book will feature over 270 pieces of art,  and written commentary about the game.
10.75"x7.75", (about the size of a classic computer game box!), Full color print, 80 pages,
soft cover, perfect bound. 

*This book contains NSFW content, please be 18 or order to purchase.