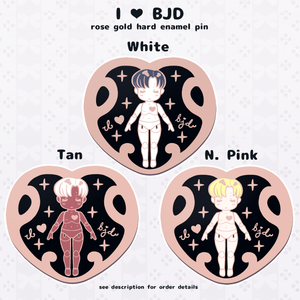 This is a PREORDER! Get a 3 pack at a special price, or use dropdown menu to choose a color!

Production will begin once orders reach 20 pieces! Delivery will be between 3-6 weeks from today, Oct 27th, 2018.

number of pieces ordered:  2/20

Show off your love of BJDs as a proud doll parent! available in NS, WS and Tan skin!
This pin is a rose gold hard enamel pin with two rubber backs.