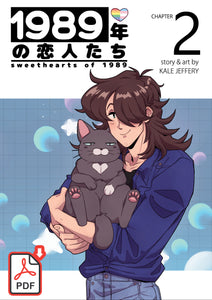 Download link for the PDF digital edition of Chapter 2.
AVAILABLE NOW!! please bear with me as I have to deliver the files manually by email and I have many preorders to go through, but rest assured you will get your copy asap! You're also absolutely welcome to claim your link via direct message on Instagram or artfol, as long as you can provide me with your order or backer number! Thank you so much. ♥️
https://www.kickstarter.com/projects/kalematsuba/sweethearts-of-1989-chapter-2
Please indiciate during checkout which email to deliver the link to. Be sure to check your junk/spam folders!