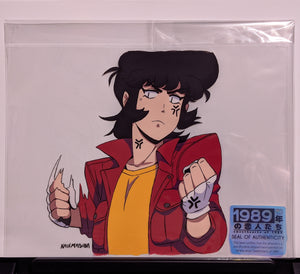 *please note for that this item, paypal payment is preferred. if you are having trouble checking out using paypal express, please use manual checkout and select paypal as the payment method. also be sure to read all the info below. thanks!
This item is a one of a kind hand painted anime cel, painted with high quality acrylics on an authentic .005 thickness acetate sheet and sealed in a clear poly bag with a certification label attached.
This cel is an "anime adaptation" of the scene of Hiroki's punch in chapter 1, and took over 12 hours of worktime. This particular cel will not be sold again.

Some tips for cel care:
- Keep the cel inside the poly bag when framing. Do not remove it/expose the raw paint side to any paper/board surface. any significant rise in temperature may cause the paint to fuse with any surface it's on and destroy the cel if removed.
- Display the cel in an area away from direct sunlight. The acetate is archival quality, but UV light may still discolor both the acetate and the paint over a long period of time.
- If not displayed in the open, store it flat inside a cool dry place.
- Be aware that fresh acetate is highly static and will attract a lot of dust if removed from the poly bag, so removing it for any reason is not recommended. (I put a lot of work into making sure it was as clean as possible before putting it in there... lol)
DISCLAIMER:
seeing as this is a one of a kind hand painted item, I sadly can offer zero warranty on its condition once it's been shipped - unlike my regular merchandise, I can not accept any returns, replacements or refunds. Please be aware of this before committing to buy. (On that note, I do always make sure to package my items for shipping with great care.)
*This item WILL be shipped expedited with a tracking number. The shipping cost difference has been included in the item's price.